We provide canoe and kayak hire on the River Wye, River Thames and River Severn. Below is a bit more information about our boats and what there is available.
Canadian Canoes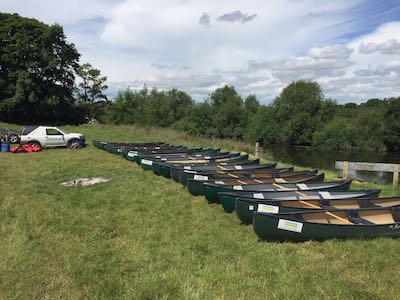 Our Canadian Canoe fleet is made up from various sizes of Old Town Canoes that are perfect for beginners and experienced paddlers. Our smallest canoes are 15 feet 8 inches in length and are most commonly used for two adults with camping equipment or two adults and two children for day trips. We also have a selection of larger canoes that we tend to use for groups with odd numbers in, so adults have enough room to stretch out even with camping kit.
Kayaks
Our kayak fleet is made up with a mixture of sit-on-top and closed cockpit styles. Sit-on-tops are ideal for beginners, children or adults with little experience. These are very stable on the water and if the paddler should capsize, there is no cockpit to hold them under the water.
If you would like any more information about canoe and kayak hire, please don't hesitate to contact us and we will be happy to answer any questions you may have.

On the left shows our sit-on-top style kayaks – perfect for less experienced paddlers as there is no danger of being trapped inside the boat if it capsizes.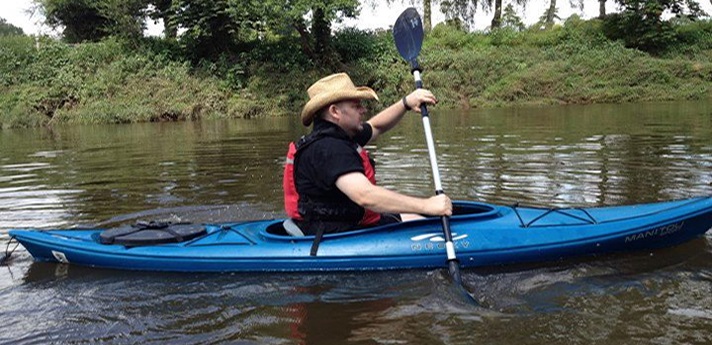 This is an example of one of our closed cockpit style kayaks – better for more experienced paddlers.
Canoe and kayak hire – booking
For canoe and kayak hire, fill out the form at the top of this page and we will get right back to you as soon as possible.
What's included?
Boat hire, either canoe or kayak depending on your preference
Paddles
Buoyancy aids
Waterproof barrel
River Map
Recovery by minibus or taxi to your vehicle / start point
Safety brief and basic instruction before setting off