Hay-on-Wye to Whitney-on-Wye Route Description
We provide canoe hire from Hay-on-Wye to Whitney-on-Wye which is a popular short section of the river, taking around two hours (5.5 miles). It incorporates beautiful scenery and wildlife and makes an excellent morning or afternoon out.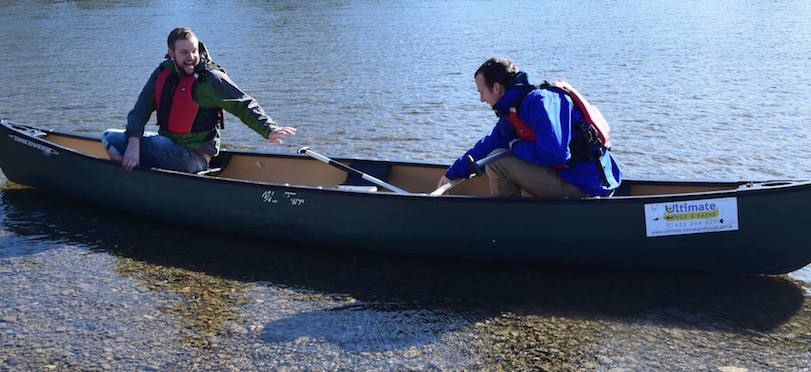 Setting off for a great day of canoeing!
History
Historically Hay-on-Wye is best known for it's book shops and in recent times, has become even more well known through the success of Hay Festival. Hay-on-Wye has many facilities on offer and is a very popular tourist destination.
Whitney-on-Wye is a small picturesque village, but most importantly it does have great pub, The Boat Inn.
Launch and Landing Points
The access point for Canadian canoes and kayak hire is located about 100 meters below Hay Bridge. At Whitney-on-Wye on the right hand bank there is river access at The Boat Inn pub. Parking is for patrons only at the pub. For other parking speak to the owners of the Pound B&B and Campsite. You cannot launch from Whitney-on-Wye unless you can camped here the night before.
Full day or Multi-day Trips
For full day trips we would recommend paddling from Glasbury to Whitney-on-Wye. If you then wish to make this into a multi-day trip, you can camp at either the Toll Bridge or The Pound B&B and Campsite, and continue on downstream towards Preston and Hereford. The Boat Inn is also situated in Whitney on Wye, where there is an access point leading into the beer garden.
Canoeing and Kayaking from Hay on Wye to Whitney on Wye
Distance: 5.5 miles
Time: 2 hours in a canoe or kayak
Booking
All bookings need to fill out the form in the top right corner of this page for us to get right back to you with availability and pricing. If you just have a quick question however, call us direct on 01432 264 807.
More questions? Check out or FAQ's page.
What's included?
Boat hire, either canoe or kayak depending on your preference
Paddles
Buoyancy aids
Waterproof barrel
River Map
Recovery by minibus or taxi to your vehicle / start point
Safety brief and basic instruction before setting off