Instructor-led Kayaking and Canoeing Groups
We have plenty of equipment to accommodate even very large instructor-led kayaking or canoeing groups. We often have groups requiring an instructor booking with us and are well accustomed to the needs of everyone. Choose from the following links below which suits your needs the best.
Remember if you don't require an instructor, just check out our regular canoe and kayak pages for either the river Severn, river Wye and river Thames.
Families – Canoeing or kayaking is the perfect family day out. We even accept young children, just be in touch!
Youth Groups – We often take school groups out for trips on the river and they love it.
Corporate Groups – A brilliant team bonding activity for businesses.
Stag Weekends – A really popular activity for many more active stag groups.
Hen Parties – Also very popular with the ladies too!
No experience needed – you will be provided with buoyancy aids and all other safety equipment and briefing, however if you have a fear of water or don't like getting wet this might not be the activity for you!

A school group on the River Wye
Instructor Led Group Sessions
River Wye
Half day sessions with instructor: £35 per person. (Minimum 6 people).
Full day sessions with instructor: £45 per person. (Minimum 6 people).
River Severn
Full day sessions with instructor: £50 per person. (Minimum 6 people).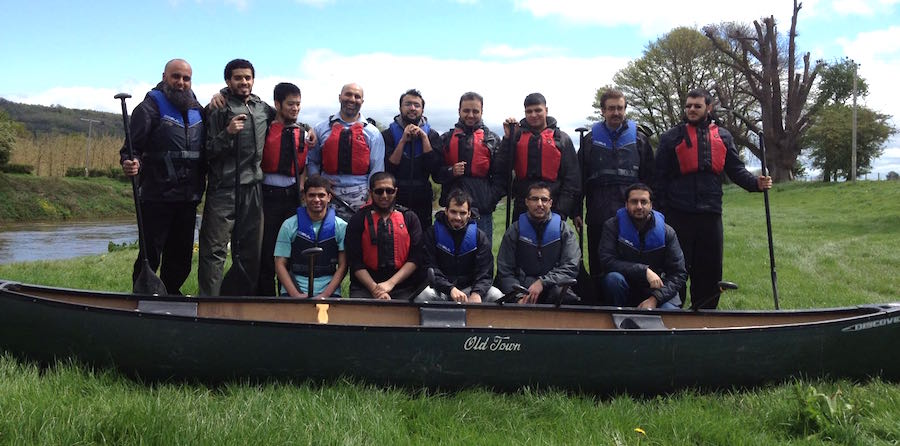 Canoeing is the perfect stag or hen party activity. Fun for everyone no matter how experienced they are!
What's Included:
Boat hire, either canoe or kayak depending on your preference
Paddles
Buoyancy aids
Waterproof barrel
River Map
Recovery by minibus or taxi to your vehicle / start point (River Wye and Severn – not included for the Thames)
Safety brief and basic instruction before setting off
Booking
All bookings need to fill out the form in the top right corner of this page for us to get right back to you with availability and pricing. If you just have a quick question however, call us direct on 01432 264 807.
More questions? Check out or FAQ's page.
Other group activities
If you are interested in other activities such as gorge walking, scrambling, mountain biking or quad biking then check out our sister website – the Ultimate Activity Company.