Pangbourne to Goring and Streatley out and back (full day)
We are running canoe hire from Pangbourne every weekend through the summer
Pangbourne is a hidden gem for paddling on the Thames. This tranquil location makes it difficult to believe it's proximity to London and Reading. This full day trip is a very pleasant paddle through Goring Gap, where the Thames cuts through between the North Berkshire Downs and the Chiltern Hills, one of the most beautiful parts of the river.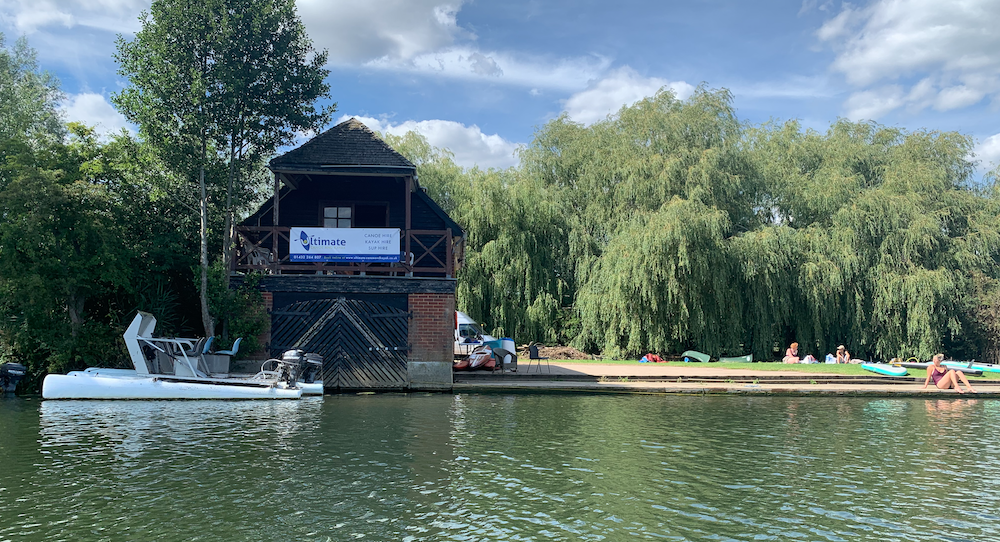 There is always lots of wildlife (including herons, kingfishers, and even the occasional otter) to be seen en route.
Lunch
On this route, we would highly recommend stopping at the Swan at Streatley, before making the return journey downstream. There is also another pub called the swan at Pangbourne.
Getting through the Locks
You can either paddle through the locks or get out and carry your boats around. We would suggest that you paddle through the locks when the lock keeper is on duty and portage if the lock is unmanned.
When you are carrying your boats be sure to lift carefully and try not to scrape the bottoms of the boats along the ground if you can help it!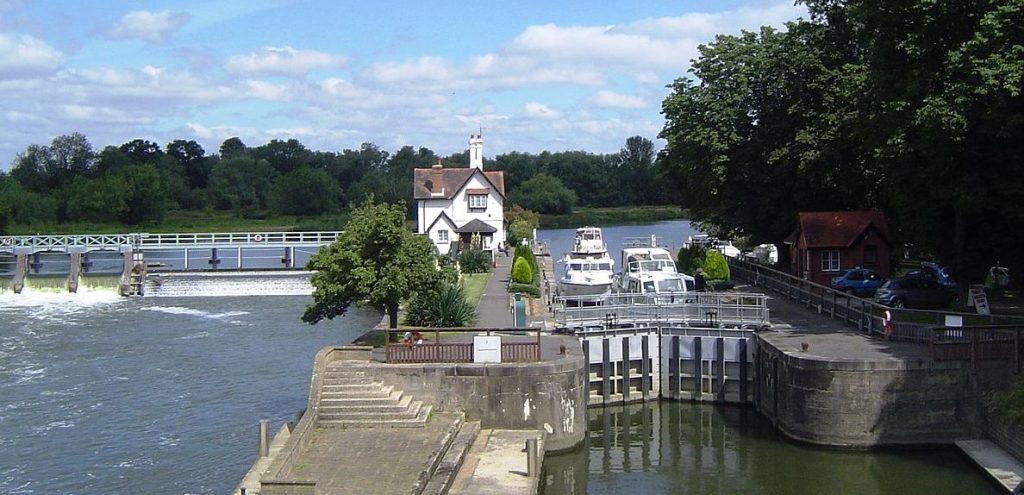 Goring Lock, at Goring and Streatley
Pangbourne Paddleabout (half day)
If you want a smaller outing, and are just wanting to have a paddle around, then Pangbourne is the ideal location. Due to the low speed of flow, it's easy to paddle upstream and then float back (or vice versa), going as far as you like.
Another benefit to this, is that there are no locks involved, which does make the day even more stress-free!
Pangbourne Location
The launch point for Pangbourne is the Oratory School Boathouse, Sheepwash Lane, Whitchurch On Thames, Thames Upriver, RG8 7RB.
Parking
There is parking by the launch point, just keep heading down Sheepwash lane as far as you can go, turn left and it will be signed.
By Train:
If you decide to take the train, you have the bonus of a beautiful walk before you get on the water, up the Thames Path.
We will pick you up and take you across river to our boat house where you will be briefed up and put on the water. Of course, you can walk around on the road… but it's around double the distance!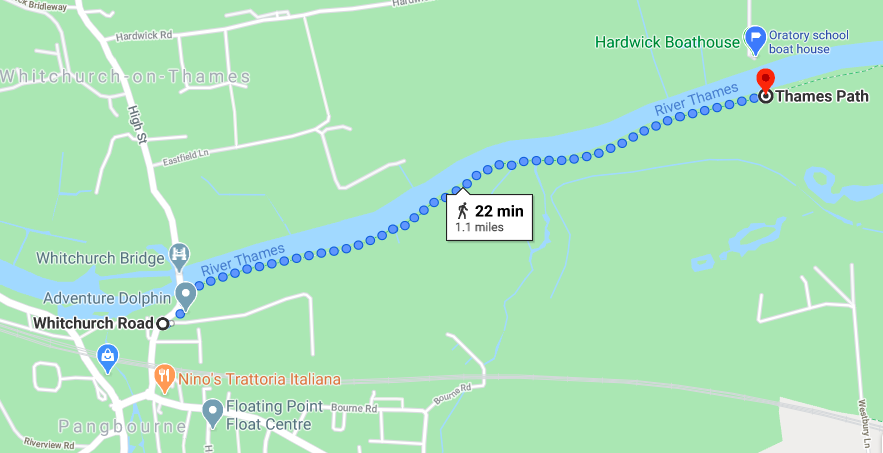 Canoe Hire from to Pangbourne to Goring and Streatley
Distance: 5.5 miles to Goring, total of 11 miles.
Time: A full day in a canoe or kayak.
Locks: 2 (Pangbourne Lock, twice)
Pricing
We are unbeatable on price. Check out our up to date pricing structure here.
Booking
All bookings need to fill out the form in the top right corner of this page for us to get right back to you with availability and pricing. If you just have a quick question however, call us direct on 01432 264 807.
More questions? Check out or FAQ's page.
What's included?
Boat hire, either canoe or kayak depending on your preference
Paddles
Buoyancy aids
Waterproof drybag
River map
Safety brief and basic instruction before setting off.
Please note: transport is not included on the upper-middle Thames so if you need to be taken back to your start location then contact us for a price.