River Wye Kayaking and Canoeing
Each section of the River Wye is divided into full day and half day river trips. When river Wye canoeing you will experience breathtaking views and sights with plenty of places to stop and great riverside campsites. We have been offering canoeing and kayaking on the River Wye for many years and know all the best places to paddle, to camp, to stay, eat and drink. Call us for details on booking the best trip to suit you needs for River Wye canoeing.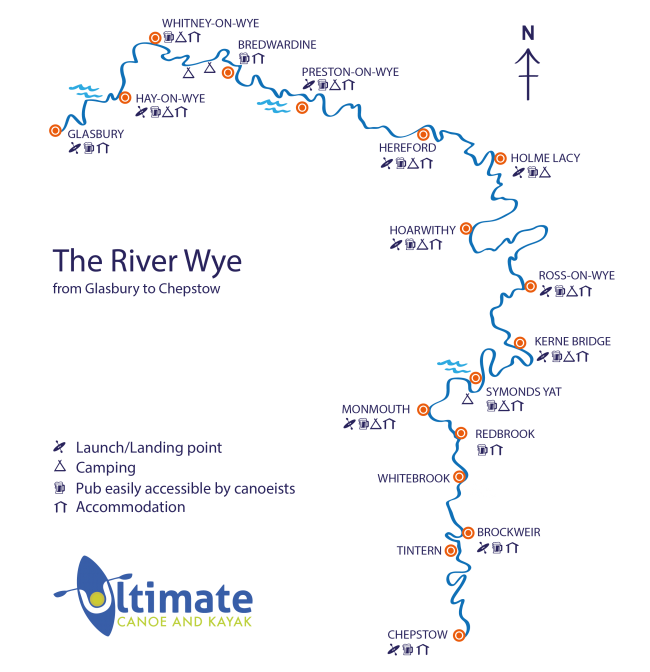 Upper River Wye
Glasbury to Hay-on-Wye – 5.5 Miles, 2 hours
River Wye canoeing from Glasbury to Hay-on-Wye. Glasbury is a picturesque town with easy access to the river Wye, making it a great place to start this paddle downstream. It is popular with all groups, no matter what ability level they are at!
Glasbury to Preston-on-Wye – 2 day trip (recommended)
Glasbury to Preston-on-Wye is a fantastic two day trip, stopping over in Whitney-on-Wye overnight at the Pound B&B and campsite or the Boat Inn.
Hay-on-Wye to Whitney-on-Wye – 5.5 Miles, 2 hours
River Wye canoeing from Hay-on-Wye to Whitney-on-Wye which is a popular short section of the river, taking around two hours. It incorporates beautiful scenery and wildlife and makes an excellent morning or afternoon out.
Hay-on-Wye to Hereford – 31 Miles, 2 days
A great 2-day trip down the upper Wye Valley, stopping over in Preston-on-Wye overnight.
Whitney-on-Wye to Preston-on-Wye – 12 Miles, 5 hours
This section is only for those who have stayed in Whitney-on-Wye overnight. This trip on the River Wye is very rural and you'll see plenty of wildlife en route. Along the way you'll pass though Bredwardine which is easily recognised by the stunning archways of an old red brick bridge and the grade two gardens of Brobury House. From here it's about 3 miles to Preston on Wye, which is just beyond Bycross and the Orchard Campsite, situated on the right hand river bank. Just some 500 meters past Bycross, below the exciting the Grade 2 Monnington Falls section, is Preston on Wye and the ruralistic New Court Farm Campsite.

Preston-on-Wye to Hereford – 11 Miles, 4 hours (reccommended)
This section is by far one of the quietest and least used sections of the River Wye, that's nestled deep within the heart of the Wye Valley. From Preston to Hereford there is much to take in from wildlife to stunning views and landscape where the river has cut it's path in over the last millennia. Unlike some other sections of the river, there are no facilities at all before arriving in Hereford. Groups are recommended to take BBQ's, and picnic's with them. On arrival at Hereford it's just a few minutes walk into the city centre. Here you will find Hereford Cathedral, home to the Mappa Mundi (map of the world which dates back to the 13th century) and the Chained Library.
Hereford is packed with various Hotels, B&B's and Guest houses all of which welcome canoe groups. There are also many restaurants, cafe's and bars that cater for any type of canoe group, from corporate team building and family adventure holidays to stag and hen parties.
Middle River Wye
Hereford to Holme Lacey Bridge – 9 miles, 3-4 hours
Canoeing down the River Wye from Hereford down to Holme Lacey bridge is gentle stretch of river taking you out of the bustling city into the countryside. Just past Holme Lacey bridge on the left river bank is a good landing area (£1 per person) at Lucksall campsite, there are excellent facilities here for tents and caravans. The local pub is a short distance however taxis are recommended as the road is often busy!

Hereford to Hoarwithy – 18 miles, 6-8 hours
Hereford to Hoarwithy is one of the quieter canoe hire sections of the River Wye, finishing at a good campsite which also has a pub, the New Harp Inn, situated just 200 meters from it. There are B&B's here but booking ahead is recommended to book as they can get busy during peak season. This is an ideal location to stop over on a two day river trip between Hereford and Ross on Wye.
Hoarwithy to Ross-on-Wye – 10.75 miles, 3.5 hours
Ross-on-Wye is around 10 miles downstream of Hoarwithy and is another great place to stop over or to finish up at. There are a number of pubs with beer gardens on the bank of the River Wye here, which all provide food. Camping is available in Ross-on-Wye at the White Lion Inn, Pub and B&B but this is limited and by prior arrangement only.

Ross-on-Wye to Kerne Bridge – 5.5 miles, 2.5 hours
Canadian Canoeing or kayaking from Ross-on-Wye to Kerne Bridge is perfect for any groups just wanting a half day paddle. The route is a very easy one, suitable for all levels of paddler. Once you arrive at Kerne Bridge, you'll be able to land at the public site and walk a few meters to the Inn on the Wye just in time for lunch.
Lower River Wye
Ross-on-Wye to Monmouth – 21 miles, 2 day trip
River Wye canoeing or kayaking from Ross-on-Wye to Monmouth makes a great two day trip, stopping at Symonds Yat overnight. This route takes in all of the best aspects of the Wye Valley, incorporating the striking cliffs of Symonds Yat and the tranquil wooded valleys either side. If you want a good place to stop for lunch, the Saracens Head pub provides great food.
Kerne Bridge to Monmouth – 15.5 Miles
Canoeing down the river Wye from Kerne Bridge, the river meanders through Symonds Yat in the Forest of Dean which is a popular tourist destination and on the river there are the Grade 2 Symonds Yat Rapids. This is a man-made section and an exciting and interesting part of the River Wye. Huntsman's (or Huntsham) Bridge is located in the middle of Symonds Yat, next to the YHA building. Canoeing through Symonds Yat, there is accommodation within easy reach on the Gloucestershire side of the river. There are two hotels here and the Saracens Head pub which provides good food.
Following on from Symonds Yat the River Wye flows to Monmouth where it meets the River Monnow. There is a public landing point next to Monmouth Rowing Club for canoe groups to get on and off the river. This historic town offers hotel and B&B accommodation with restaurants, cafe's and bars that cater for any type of canoe group.

Monmouth to Brockweir – 9 miles, 3-4 hours (recommended)
Canoeing down the River Wye from Monmouth to Brockweir, you will head towards Redbrook, and from here to Chepstow the river runs inline with the boarder of England and Wales. There are two good pubs in Redbrook on either side of the river and getting on and off is easy. After Redbrook the river moves to Brockweir bridge and the landing point is just up stream on the left hand bank. Beyond this bridge the River Wye is tidal and only experienced / expert paddlers should continue down to Tintern Abbey. Landing at Tintern is on the right bank just before Tintern Abbey. This is a spectacular site to see and if you stop short in Brockweir, it's definitely worth a drive down to look around the Abbey. There are hotels and B&B's in Tintern, with cafe's and pubs that cater for any type of canoe group.

Monmouth to Chepstow – 18 miles, 6 hours
We provide Canadian canoe and kayak hire from Monmouth to Chepstow. River Wye canoeing from Monmouth to Chepstow is a fantastic day out for groups wishing to explore the spectacular lower Wye Valley. The route passes Redbrook (good place to stop for a pub lunch at either the Boat Inn or The Bell), Whitebrook and the picturesque Bigsweir Bridge. After this Llandogo, Brockweir (another landing point should you wish it), Tintern and Chepstow. The route is 18 miles and takes most groups around 6 hours in a canoe or kayak.