Hereford to Holme Lacy Bridge Canoe and Kayak Route Description
Our Hereford to Holme Lacy Bridge canoe or kayak trip is one of many great routes along the river Wye that we provide. This is a very pleasant section of the river, approximately 9 miles in length. As you paddle out of Hereford the scenery gets better and better, winding through villages and woods of the Wye Valley where there is plenty of wildlife. If you are lucky you might spot kingfishers, otters, herons, salmon and deer.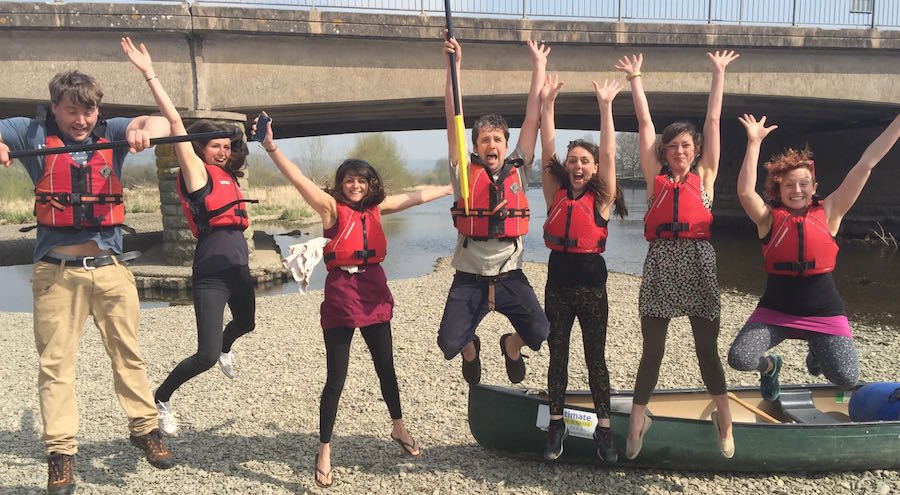 Paddling down the river Wye is fun for all the family!
Hereford
From Hereford rowing club campsite, it's just a short walk into the city centre with easy access to all the bars and pubs. If you're after the best curry and pint in town, then we recommend heading over to the Barrels pub before going into the Jalsagor to eat. For breakfast we recommend heading over to Diego's cafe in Bridge Street for a full English breakfast.
Launch and Landing Points
The launch point in Hereford is on the right hand bank underneath the A49 bridge. Short term parking is available in Asda's carpark at the bottom corner closest to the river. There is good access to get on and off the river and long stay parking can be found next to the old bridge on Wye Street.
Just past Holme Lacy bridge on the left river bank is a good landing area (£1 per person). Here there are excellent facilities here for tents and caravans. The local pub is a short distance however taxis are recommended as the road is often busy!
Canoeing and kayaking from Hereford to Holme Lacy Bridge
Distance: 9 miles
Time: 3-4 hours in a canoe or kayak
NB – rowing crews may be racing or training on this section.
Booking
All bookings need to fill out the form in the top right corner of this page for us to get right back to you with availability and pricing. If you just have a quick question however, call us direct on 01432 264 807.
More questions? Check out or FAQ's page.
What's included?
Boat hire, either canoe or kayak depending on your preference
Paddles
Buoyancy aids
Waterproof barrel
River Map
Recovery by minibus or taxi to your vehicle / start point
Safety brief and basic instruction before setting off