Kayaking or Canoeing Stag Weekends
Canoeing stag weekends are getting increasingly popular. They suit all abilities and ages so everyone can join in and have a great time. It is a fantastic outdoor activity without being too tiring and also a great way of blowing away the cobwebs of the night before. Give your Stag a day out to remember!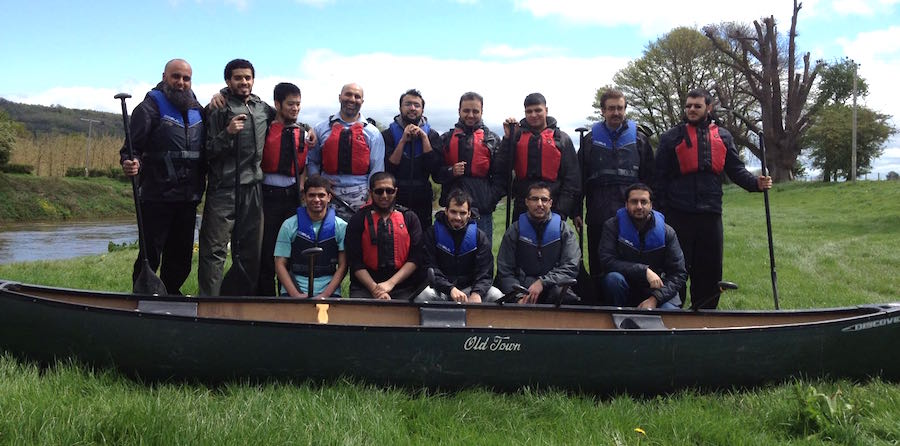 We can offer half day paddles, full day trips or longer overnight trips (see the suggested itinerary below).  We now offer canoeing and kayaking on most rivers around the UK, so get in touch and find out what we can offer for your hen party.
The most popular river for canoeing stag weekends is the river Wye and here we can offer canoeing or kayaking from a range of great locations all the way down it's length. Click here to find out more about the trips we offer on the river Wye.
Booking Kayaking & Canoeing Stag Weekends
All bookings need to fill out the form in the top right corner of this page for us to get right back to you with availability and pricing. If you just have a quick question however, call us direct on 01432 264 807.
Any more questions on what to bring, how far you will travel in a day… etc, check out our FAQ page!
Suggested Itinerary: (Example)
Based on a River Wye trip
Arrive into Hereford on Friday night for dinner and drinks
Day 1 / Breakfast morning, Briefing, Transport to start point
Introduction to Canadian Canoes
Pack Canoes, Kit up and Depart
Stop along the way for picnic
Arrive at riverside campsite / Pitch tents / BBQ
Day 2 / Breakfast, Break camp, Kit up and Depart
Arrive back into Hereford City center
Sunday lunch / Depart
Other locations and durations are available
What is included?
Full event management and instruction
Boat hire
All necessary equipment
Transport
What locations are available?
Locations along the river Wye including:
Hereford
Hay on Wye
Ross on Wye
Monmouth
Chepstow
Locations along the river Thames including:
Oxford.
Pangbourne
Reading
Henley
London (kayaking only).
What should we wear?
Suitable outdoor clothing depending on weather conditions.
Trainers or walking shoes that lace up.
All technical equipment is provided.
How long should we allow for this experience?
Choose to travel along the river for 1 to 7 days.
Most hen parties choose to take a 2-3 day trip.
When does the activity take place?
All year round depending on weather conditions and river levels.
Are there any restrictions?
There are no restrictions but anyone with medical conditions must declare these before booking as no refund will be given. If you're unsure about your medical condition or abilities, always consult your doctor before booking this activity.
Minimum Numbers
Minimum groups of 2 people.
Prices
River Wye
Half day canoe hire: £20 per person.
Full day canoe hire: £25 per person.
Half day sessions with instructor: £35 per person.
Full day sessions with instructor: £45 per person.
Minimum group of 6 with an instructor
River Severn
Full day canoe hire: £30 per person.
Full day sessions with instructor: £50 per person.
Minimum group of 6 with an instructor
River Thames (upper to middle)
Half day canoe hire: £30 per person.
Full day canoe hire: £35 per person.
River Thames (London)
For information on Stag and Hen kayaking trips in London, click here!
Looking for a stag party that is more than just canoeing or kayaking? Check out our sister company the Ultimate Activity Company who can arrange countless more activities and accommodation for your stag weekend!