Canoe Hire Hay on Wye

Kayak hire and Canoe Hire Whitney on Wye
Canoe Hire Whitney on Wye. Whitney on Wye is one of our landing points along the river Wye. We cannot start a trip from here due to access restrictions, however it makes the perfect location to finish a full or half day's paddling. If you camp at Whitney-on-Wye overnight, then paddlers may launch again from the campsite in the morning. For a different start point, check out our many other locations along the River Wye.
Suggested Meeting Location (what3words location): ///rinsed.haystack.salads
Our Routes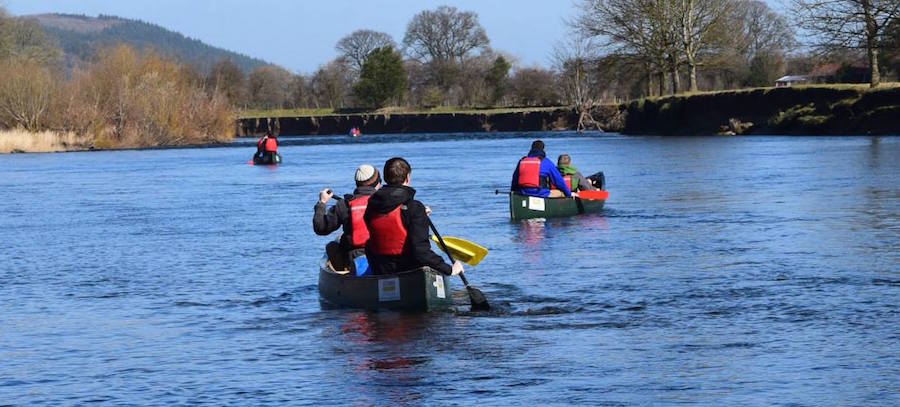 Canoe and Kayak routes near Whitney on Wye
For full day paddling we recommend: Glasbury on Wye to Whitney-on-Wye. (11 miles, 4-5 hours)
For more adventurous paddlers we recommend: Glasbury to Preston-on-Wye however this requires an earlier start!
Launch and Landing Points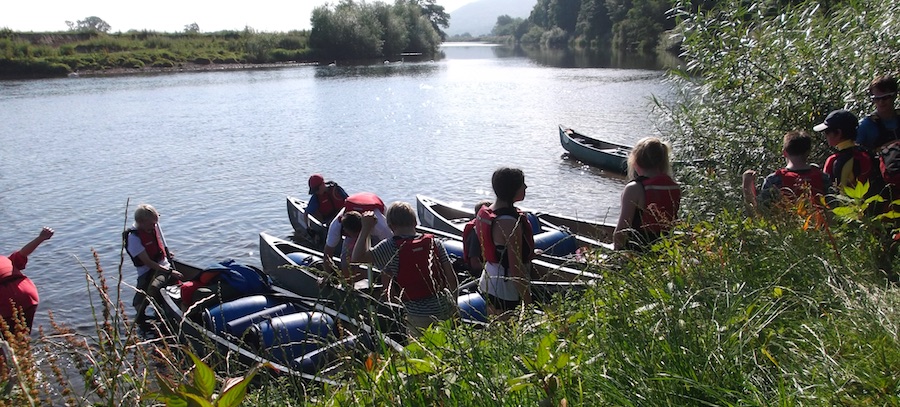 Launch and Landing Points
The landing point in Whitney is at the Boat Inn pub. Parking is for patrons only at the pub. For other parking speak to the owners of the Pound B&B and Campsite. Remember you cannot launch from Whitney-on-Wye unless you can camped here the night before.
Don't forget we also have the capability to provide canoe or kayak hire from any of our other landing points on the River Wye.
Don't forget we also have the capability to provide canoe or kayak hire from any of our other landing points on the River Wye.
Route Information
If you have camped overnight, then canoeing or kayaking down the river from Whitney-on-Wye makes a beautiful day out.
This section of the River Wye is very rural and you'll see plenty of wildlife on route. Along the way you'll pass though Bredwardine which is easily recognised by the stunning archways of an old red brick bridge and the grade two gardens of Brobury House. From here it's about 3 miles to Preston on Wye, which is just beyond Bycross and the Orchard Campsite, which is situated on the right hand bank.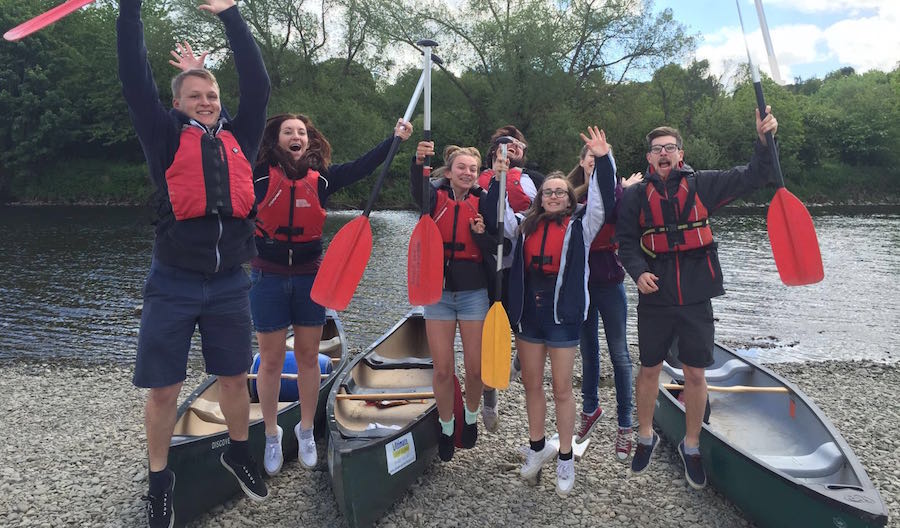 Canoeing on the Wye

As you pass the Orchard Campsite, you'll gradually start to here the sound of Monington Falls, a short section of rapids, making this an exciting section of the river. At the bottom of Monington Falls the river opens out and starts to slow as you approach the campsite at New Court Farm.
Booking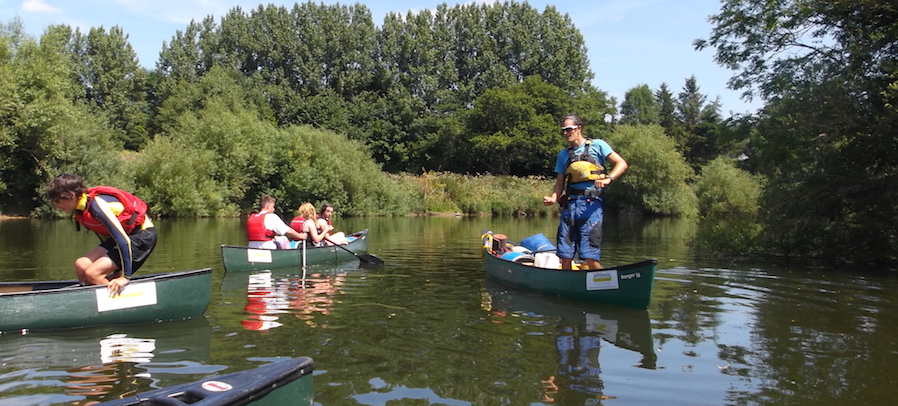 Booking
All bookings need to fill out the form in the top right corner of this page for us to get right back to you with availability and pricing. If you just have a quick question however, call us direct on 01432 264 807.
More questions? Check out or FAQ's page.
Pricing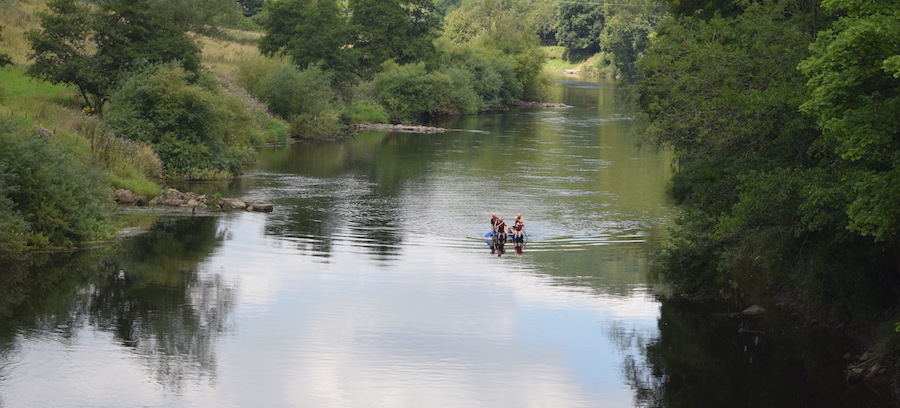 Pricing
We are unbeaten on price and quality of service. For our latest pricing structure, click here.
River Levels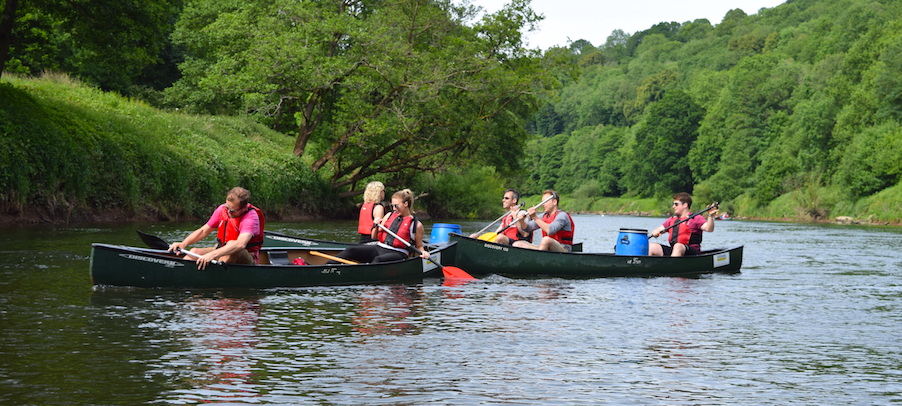 River levels, Whitney-on-Wye
To find out the latest river levels and weather warnings in Whitney-on-Wye click here.
Nearby Accommodation
Accommodation in Whitney-on-Wye
Camping
At Whitney-on-Wye itself is the Whitney Tollbridge Glamping and Camping,  Pound B&B and Campsite, ideal for paddlers to stop overnight before setting off again the next morning on their river trip!
Further downstream, for those wishing to make a multi-day trip of this section of the river we would recommend the New Court Farm Campsite "Wye Camp Here" at Preston-on-Wye, situated just below Monington Falls. This is a rustic campsite that allows groups to have campfires and provides packs of wood for the occasion. There is a toilet but no showers, making this ideal for groups looking for a peaceful wild setting with lots of wildlife and stunning views all around. The campsite is signposted and has a wooden top landing / launch point with steps leading onto the campsite, which is on the right hand bank. From the campsite, it's a short walk into Preston village where you'll find the Yew Tree pub.
Pubs and Cafés
Pubs and Cafés
We would recommend the Boat Inn, right on the river.
Local Events
Local Events
Here are some local events coming up in this area in 2020: