Pangbourne to Wallingford
We provide canoe hire from Pangbourne upstream to Wallingford (10 miles, a full day in a canoe or kayak), amongst many other routes on the River Thames. See the Thames at its best on this stretch of the river.
An easy trip upriver from the landing area by the activities centre in Pangbourne to a beach just before the bridge in Wallingford. A couple of campsites are a short portage away for an overnight stay in Wallingford before heading back, or it can be completed in a long day.
There's lots of wildlife (including herons, kingfishers, and even the occasional otter) to be seen en route, particularly around Beale Park.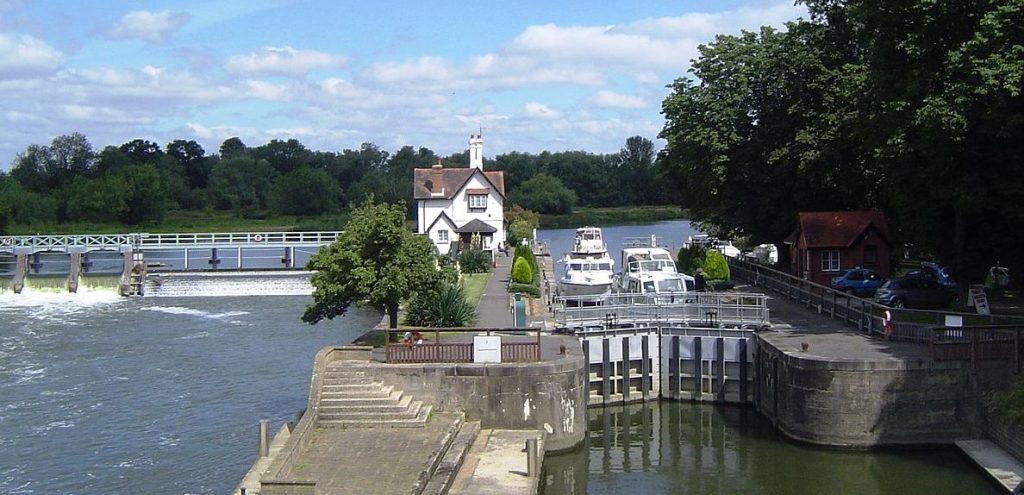 Goring Lock, at Goring and Streatley
Panbourne to Wallingford route description
The launch point on this route is at the Hardwick Boathouse.
Parking
There is parking right by the launch point, just keep heading down Sheepwash lane as far as you can go and it will be signed.
Lunch
On this route, we would highly recommend stopping at the Swan at Streatley.
Getting through the Locks
You can either paddle through the locks or get out and carry your boats around. We would suggest that you paddle through the locks when the lock keeper is on duty and portage if the lock is unmanned.
When you are carrying your boats be sure to lift carefully and try not to scrape the bottoms of the boats along the ground if you can help it!
Further options
Why not try our other day trips including Henley to Marlow or Sonning to Henley, or if you are feeling a little more adventurous then Cholsey to Henley, a weekend trip!
Canoe Hire from to Pangbourne to Wallingford
Distance: 10 miles
Time: A full day in a canoe or kayak.
Locks:
Pricing
We are unbeatable on price. Check out our up to date pricing structure here.
Booking
All bookings need to fill out the form in the top right corner of this page for us to get right back to you with availability and pricing. If you just have a quick question however, call us direct on 01432 264 807.
More questions? Check out or FAQ's page.
What's included?
Boat hire, either canoe or kayak depending on your preference
Paddles
Buoyancy aids
Waterproof drybag
River map
Safety brief and basic instruction before setting off.
Please note: transport is not included on the upper-middle Thames so if you need to be taken back to your start location then contact us for a price.