Hoarwithy to Ross on Wye Canoe and Kayak
Our Hoarwithy to Ross on Wye Canoe or kayak trip is one of many great routes along the river Wye. It is a 10 mile trip taking around 3.5 hours. Hoarwithy is an ideal location to start your morning or afternoon canoe or kayak hire trip or to use for camping along the way. It has a good campsite and excellent pub only meters away.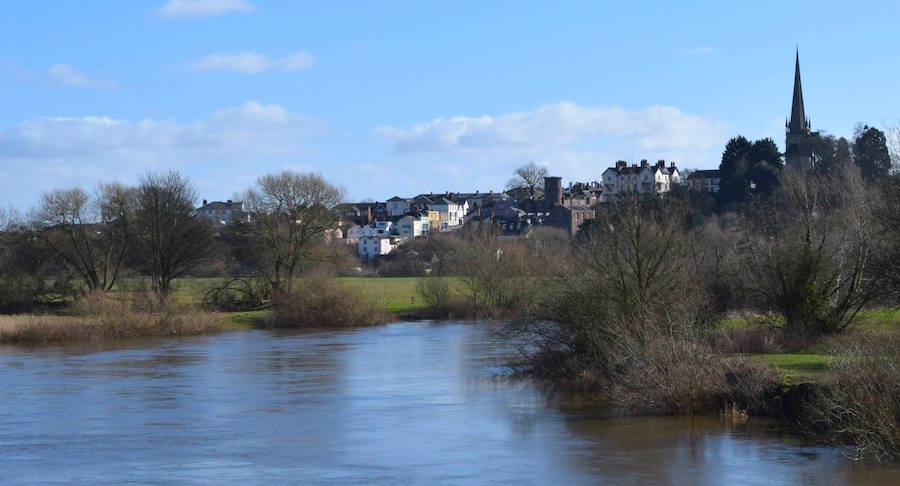 View of Ross-on-Wye from the river
Hoarwithy to Ross on Wye Canoe and Kayak Route Description
From Hoarwithy, paddlers have a pleasant journey down this section of the river to Ross-on-Wye. After 2 miles you will pass under a suspension footbridge, closely followed by a dismantled railway bridge. Fawley chapel, on the left bank (no access from river) is also of interest after 5 miles.
Just beyond this, for 2 miles, be aware of salmon pools which are indicated by red and green discs. Please observe these and follow the green discs as you make your way along this section.
After 6 miles there is an elegant footbridge at Foy. This was built after the earlier structure was swept away in floods in 1919.
Launch and Landing Points
The landing point in Hoarwithy is 300m below Hoarwithy Bridge on the right hand side of the river at Tressek Campsite. This is only a short distance from the New Harp Inn.
The launch and landing point in Ross-on-Wye is at the public green area on the left hand side of the river. There are also landing points at both the Hope and Anchor (upstream of the green) and the White Lion Pub (100m below the old bridge). Access to these pubs is for patrons only however.
Canoeing and Kayaking from Hoarwithy to Ross on Wye
Distance: 10.75 miles
Time: 3.5 hours in a canoe or kayak
Booking
All bookings need to fill out the form in the top right corner of this page for us to get right back to you with availability and pricing. If you just have a quick question however, call us direct on 01432 264 807.
More questions? Check out or FAQ's page.
What's included?
Boat hire, either canoe or kayak depending on your preference
Paddles
Buoyancy aids
Waterproof barrel
River Map
Recovery by minibus or taxi to your vehicle / start point
Safety brief and basic instruction before setting off