Ross-on-Wye to Monmouth Bridge Route Description
Canadian Canoeing or kayaking from Ross-on-Wye to Monmouth makes a great two day trip, stopping at Symonds Yat overnight.This route takes in all of the best aspects of the Wye Valley, incorporating the striking cliffs of Symonds Yat and the tranquil wooded valleys either side.
It is a great trip for the slightly more adventurous paddlers who wish to make a whole weekend break out of it.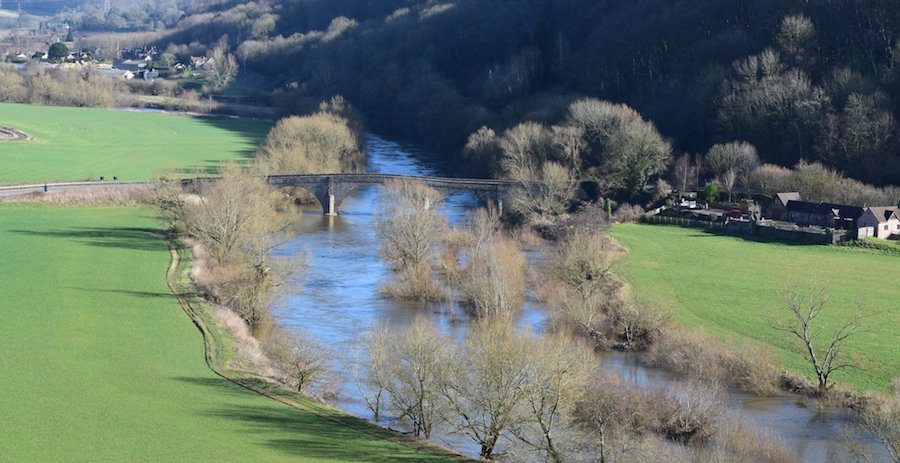 Kerne Bridge, a few miles downstream of Ross-on-Wye
Launch and Landing Points
The launch point in Ross-on-Wye is at the steps on left hand bank, 100m below the Hope and Anchor pub. There is parking close by.
Stopping at Symonds Yat is for patrons only, on the left hand side of the river. We would recommend the Saracens Head for food and accommodation.
The landing point in Monmouth is on the right hand side before the bridge at Monmouth Rowing Club. There is free parking here.
Canoeing and Kayaking from Ross on Wye to Monmouth
Distance: 21 miles
Time: 2 day trip
Day 1: Ross on Wye to Symonds Yat
Distance: 13 miles
Time: 5 hours in a canoe or kayak
Day 2: Symonds Yat to Monmouth
Distance: 8 miles
Time: 3 hours in a canoe or kayak
Booking
All bookings need to fill out the form in the top right corner of this page for us to get right back to you with availability and pricing. If you just have a quick question however, call us direct on 01432 264 807.
More questions? Check out or FAQ's page.
What's included?
Boat hire, either canoe or kayak depending on your preference
Paddles
Buoyancy aids
Waterproof barrel
River Map
Recovery by minibus or taxi to your vehicle / start point
Safety brief and basic instruction before setting off