Hereford to Hoarwithy Canoe and Kayak Route Description
Our Hereford to Hoarwithy canoe or kayak trips is one of the longest full day sections on the River Wye. In fact, the trip is 18 miles (6-8 hours) from start to finish. Hereford to Hoarwithy is cracking river trip with a great campsite next to the river which allows BBQ's and also has an excellent pub that's just a short walk away. It's a good idea to set of early as this section can take a good eight hours plus if the river is low.
After launching from Herefords rowing club, you'll shortly pass under the city's main A49 carriageway and old stone Saxon bridge, where you'll see the cathedral and Bishops house sat on the left hand river bank overlooking all that pass by.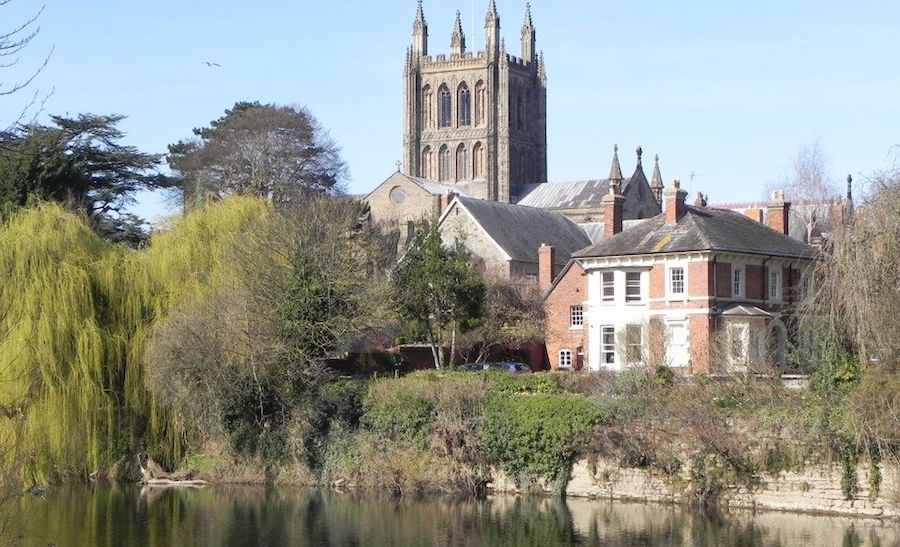 Hereford Cathedral, Hereford
This section of the River Wye is very picturesque, winding through many small villages. The first of these, Hampton Bishop, has a village pub called the 'Bunch of Carrots' which takes its unusual name from a salmon pool nearby.
Holme Lacy to Hoarwithy
9 miles out of Hereford (roughly half way) you will pass under Holme Lacy Bridge, and after this, the river follows several large open meanders. A few kilometres further, the river is surrounded by woodland again- look out for deer and other wildlife which roam the forests on the steep hillsides. Here paddlers will have the excitement of a few rapids around Carey Islands. The best route is usually to the right of the first island.
Just before Hoarwithy you will pass under a disused railway line at Carey. This is one of three railway bridges that were dismantled between Hereford and Ross-on-Wye when the railway line closed in 1964.
If your planning to canoe for a full day or more then Hereford to Hoarwithy is a must-do section of the River Wye!
Launch and Landing Points
The launch point in Hereford is on the right hand bank underneath the A49 bridge. Short term parking is available in Asda's carpark at the bottom corner closest to the river. There is good access to the river and long stay parking can be found next to the old bridge on Wye Street.
The landing point in Hoarwithy is 300m below Hoarwithy Bridge on the right hand side of the river at Tressek Campsite. This is only a short distance from the New Harp Inn.
Hereford to Hoarwithy Canoe or Kayak Trip
Distance: 18 miles
Time: 6-8 hours in a canoe or kayak
What's included?
Boat hire, either canoe or kayak depending on your preference
Paddles
Buoyancy aids
Waterproof barrel
River Map
Recovery by minibus or taxi to your start point
Safety brief and basic instruction before setting off
Further options
Alternatively, if you are wanting a shorter trip there is a landing point at Holme Lacy. This is a good point to stop if you are just wanting a 3-4 hr trip. See our page Hereford – Holme Lacy Bridge for more information.
For a day-trip arriving in Hereford, we would recommend Preston-on-Wye to Hereford, which is 12 miles in length.
Booking
Fill out the form in the top right corner of this page and we will get right back to you with availability and pricing. Or you can call us direct on 01432 264 807.