Monmouth to Brockweir
We provide Canadian canoe and kayak hire from Monmouth to Brockweir among many other locations along the river Wye. Canadian canoeing or kayaking from Monmouth to Brockweir is a fantastic journey through the countryside, passing Redbrook and Whitebrook en-route. From Monmouth Rowing Club the River Wye creates the boarder between England and Wales, with each bridge straddling between two countries along the way. The route is 9 miles and takes usually around 4 hours in a canoe or kayak.
Monmouth to Brockweir Route Description
Monmouth to Redbrook is approximately 2.5 miles downriver and the last stop before the river starts to become tidal at Whitebrook. This section of river takes about an hour and makes a good short trip to a village that has two brilliant pubs. Both the Boat Inn or The Bell provide great places to have lunch or an afternoon refreshment along the way.
Only experienced paddlers or groups with an instructor or river guide should continue beyond Redbrook as the river becomes tidal.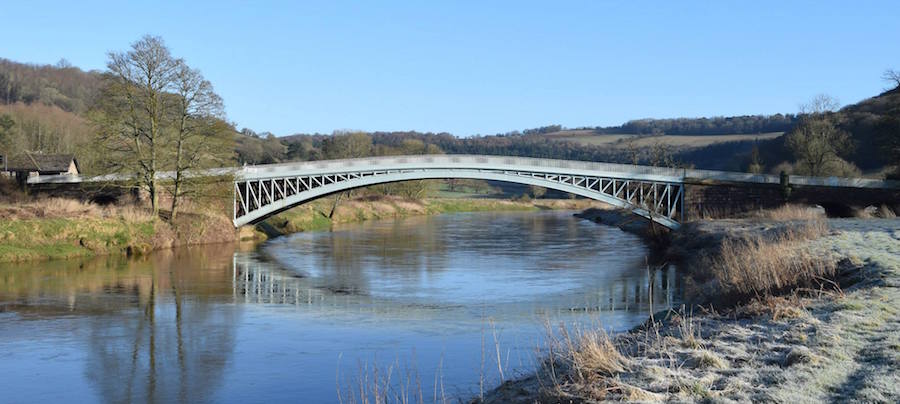 Bigsweir Bridge
Continuing down, the river passes Whitebrook after five miles and Bigsweir Bridge after seven miles. This section of the trip is just spectacular with the river plunged into a steep sided wooded valley packed full of flora and fauna. From Bigsweir it is another couple of miles to Brockweir to complete this nine mile trip.
Launch and Landing Points
The launch and landing point in Monmouth is at Monmouth Town Rowing Club on the right hand side of the river just before the bridge. Access can be reached by car by going under the A40 underpass at the leisure centre. There is free parking right by the launch/landing point however be aware that on weekends this is often busy with rowing events.
Should you wish to stop for some refreshements in Redbrook, the landing and launch point is on the left hand river bank just after the disused bridge. Here there is access to the village green and car park.
The landing point at Brockweir can easily be spotted by paddlers as it has it's own stone quay just before a white metal bridge. Paddlers should disembark just under the bridge.
Canoeing and Kayaking from Monmouth to Redbrook
Distance: 2.5 miles / short half day
Time: 1 hour in a canoe or kayak
Canoeing and Kayaking from Monmouth to Brockweir
Distance: 9 miles / short full day
Time: 3 hours in a canoe or kayak (longer if you stop for lunch in Redbrook)
Booking
All bookings need to fill out the form in the top right corner of this page for us to get right back to you with availability and pricing. If you just have a quick question however, call us direct on 01432 264 807.
More questions? Check out or FAQ's page.
What's included?
Boat hire, either canoe or kayak depending on your preference
Paddles
Buoyancy aids
Waterproof barrel
River Map
Recovery by minibus or taxi to your vehicle / start point
Safety brief and basic instruction before setting off