Our London kayaking tours and sessions take advantage of unique tidal windows which enable us to harness the full power of the River Thames, in both directions. Usually we travel with the stream in stable double kayaks for two hours, taking in all the sights of central London along the way, then the tide turns it gives us time to stretch our legs and take in some refreshments before catching the start of the flood tide all the way home. Kayaking in London is a unique way to experience the capital!
Our main return trips either run from Greenwich west towards London Bridge and back or east to the Thames Barrier and back. Want to see more of the city of London? Then the Kayak Bus trip is for you. Read more about the options below…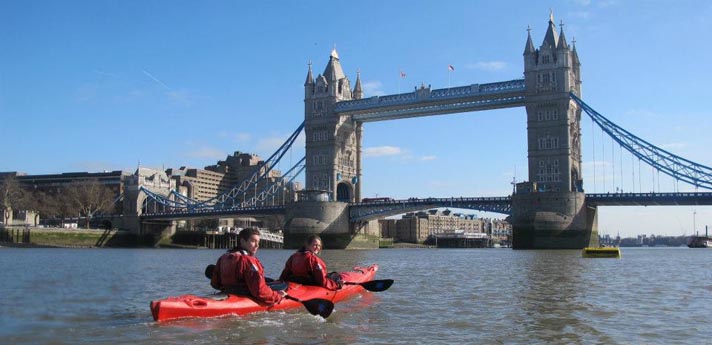 Kayaking in London is a fantastic way of seeing the city!
London Kayaking

Kayaking information
There are a range of tours to choose from if you decide to go kayaking in Central London. These tours operate over a distance of twelve-miles along the River Thames between the Millennium Footbridge and the Thames Barrier. Our routes for kayaking in Central London are flexible, as we prefer to tailor the experience to suit you so you can get the most out of your time with us. All trips for kayaking in Central London are planned around the tide to ensure that it assists you in whatever direction you're paddling, allowing you to relax and enjoy the views.
The kayaks we use for London kayaking are stable tandem kayaks and are suitable for paddlers of all levels. Our guides have a great amount of experience paddling and leading on this stretch of the river, so you have complete reassurance that you're in good hands.
What are the trips available and pricing?
To the Tower and Return (Westwards) – £45 per person
From Greenwich passing the Isle of Dogs, Canary Wharf and Wapping on your way to the Tower of London and Tower Bridge. Turning at London Bridge you will pass HMS Belfast and with the tide in our favour we will be carried back to Greenwich. This is one of our most popular trips and is perfect for groups, especially Stag or Hen parties!
Thames Barrier and Return (Eastwards) – £40 per person
From Greenwich passing the Cutty Sark, Royal Observatory, London Dome, London's only lighthouse at Trinity Wharf. Then onward to the Thames Barrier, London's world famous flood defence.
Kayak Bus – £55 per person
Kayak Bus can either go Westwards or Eastwards right across the centre of London. Depending on the tide on the day that you want to go we either start in Greenwich (East London) or Vauxhall (West London). After you have finished your 3 hour paddle you will take the bus back to your start location. This is a brilliant sight seeing trip, passing all of London's top landmarks that can be easily viewed from the water.  You will pass the Cutty Sark, Canary Wharf, Tower Bridge, Tower of London, Bankside and the Globe, St Pauls, South Bank, London Eye, Houses of Parliament, Lambeth Palace, Mi5 and many other landmarks.
Journey time is a good 3 hours and with the tidal flow making the trip suitable for all abilities including complete beginners.
* All trips include full safety equipment, instruction on the basics of paddling and a safety brief prior to launch.
Stag and Hen parties
We love organising Stag and Hen parties for kayaking in London. For these groups we would highly recommend either the Tower and Back trip, or for those wanting a longer day out, the Kayak Bus option.
We cannot mix booze and kayaking, however these are extremely popular as a pre-party activity. We can also point you in the direction of many nearby eateries and pubs near to your finish location should you want it.