Corporate groups canoeing and kayaking
We can run a tour for your corporate groups canoeing down the river taking in some of the local sights. Alternatively you can choose to stay local and challenge your corporate groups competitive side with some games and skills. We usually paddle against the tide for the first part of the session, making the return trip easier on the arms!
Corporate Groups Team Building
Whatever your aims are, we write individual corporate team building programs for all aspects of your event. We provide programs which improve leadership skills, effective team-working, communication, time-management and problem solving.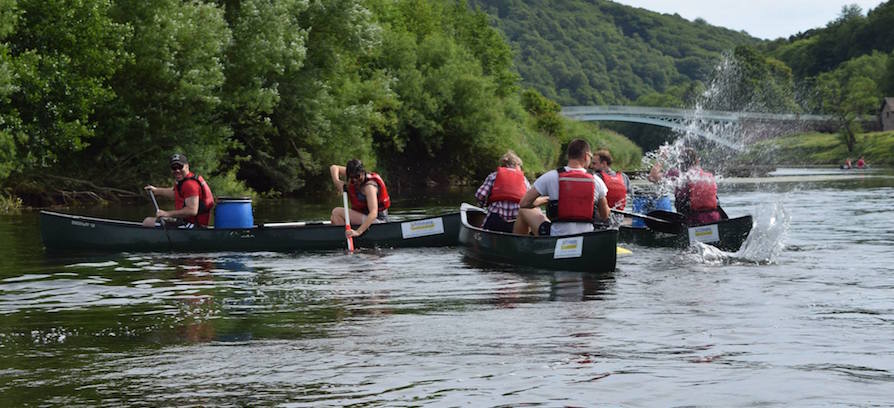 One of our corporate groups canoeing on the River Wye!
About Team Building
The list below has some examples of Team Building and Leadership Development Activities which companies and schools use again and again. If you don't see what you have in mind listed or if you would like further information please don't hesitate to call to speak to one of the team.
Constant consideration of Environmental Impact and Sustainability.
Growth and Success through Cultural Diversity.
Investment of Resources in the Present as a strong platform for success in the Future.
Requirements such as longer trips and refreshment breaks can usually be done, please contact us for more details.
Booking
All bookings need to fill out the form in the top right corner of this page for us to get right back to you with availability and pricing. If you just have a quick question however, call us direct on 01432 264 807.
More questions? Check out or FAQ's page.
Corporate Groups Canoeing and Kayaking Trip
Suggested Two Day Itinerary: (Example)
Day 1 / Breakfast, Briefing, Transport to start point
Introduction to Canadian Canoes
Pack Canoes, Kit up and Depart
Stop along the way for picnic
Arrive at riverside campsite / Pitch tents / BBQ
Day 2 / Breakfast, Break camp, Kit up and Depart
Arrive back into start location
Sunday lunch / Depart
Longer breaks and various locations available.
What is included?
Full event management and instruction
Boat hire
All necessary equipment
Transport
What locations are available?
Locations along the River Wye including:
Hereford
Hay on Wye
Ross on Wye
Monmouth
Chepstow
Locations along the River Severn including:
Coalport
Bridgnorth
Bewdley
Locations along the River Thames including:
Oxford
Pangbourne
Reading
Henley
London (kayaking only)
What should we wear?
Suitable outdoor clothing depending on weather conditions
Trainers or walking shoes that lace up
All technical equipment is provided
How long should we allow for this experience?
Choose to travel along the river for 1 to 7 days. Most corporate groups choose to take a 1-2 day trip.
When does the activity take place?
All year round depending on weather conditions and river levels.
Are there any restrictions?
There are no restrictions but anyone with medical conditions must declare these before booking as no refund will be given. If you're unsure about your medical condition or abilities, always consult your doctor before booking this activity.
Minimum Numbers
Minimum groups of 2 people
Prices
River Wye
Half day canoe hire: £20 per person.
Full day canoe hire: £25 per person.
Half day sessions with instructor: £35 per person.
Full day sessions with instructor: £45 per person.
Minimum group of 6 with an instructor
Children under 12 are half price!
River Severn
Full day canoe hire: £32 per person.
Full day sessions with instructor: £50 per person.
Minimum group of 6 with an instructor
Children under 12 are half price!
River Thames (upper to middle)
Half day canoe hire: £30 per person.
Full day canoe hire: £35 per person.
River Thames (London)
For information on corporate canoeing trips in London, click here!
Call 01432 264 807 for a quote.
River Wye Survival Challenge
The River Wye Survival Challenge is a two day event which is perfect for corporate team building, stag and hen weekends and groups of friends.
What does the Survival Challenge involve?
This is the perfect corporate groups canoeing challenge.  It includes the four main elements of survival (Fire, Food, Shelter and Water) mixed together with canoeing skills, river navigation and river safety. Each participant has a set amount of equipment, a sixteen-foot open boat "each" to paddle solo for 30 miles down river over two days. This is a tough challenge that really brings the team together as the dynamics are put to the test!
Suggested Itinerary: (Example)
Day one:
• 08:30 Final kit check
• 09:30 Transport departs Hereford
• 10:00 Start day one
• 16:00 Arrive at river side camp
• 17:00 Build shelters / collect water / cook food
Day two:
• 08:30 Breakfast
• 09:30 Break camp
• 10:00 Start day two
• 16:00 Arrive at Hereford
• 16:30 Wet de-brief in local river side bar
Where does the challenge take place?
The challenge happens on the River Wye. Groups meet in Hereford where transport takes you out to your start point. The challenge is to return to Hereford by the following day.
Teams can undertake the challenge between March and October depending on weather conditions.
What equipment do you need for the Survival Challenge?
Full kit lists are sent out prior to the event and may change at different times of the year.
How much does it cost and what is included?
Prices for this activity start at £80 per person. The price includes:
Full event management.
Personal Team Instructor(s).
All equipment and kit hire.
Food and Transport.
How do I book?
Call 01432 264 807 or email enquiries@ultimate-activitycompany.co.uk.
There is a minimum booking number of 4 for this challenge.
There are no restrictions however any special requirements or health concerns must be discussed at the time of booking.
Other group activities
If you are interested in other activities such as gorge walking, scrambling, mountain biking or quad biking then check out the Ultimate Activity Company.