Group Canoeing Prices for Hire – either canoe or kayak
Group canoeing prices include all equipment & transport.
Half day: £20 per person.
Full day: £25 per person.
Instructor-led Group Canoeing Prices – either canoe or kayak
With an instructor, group canoeing prices include all equipment & transport.
Half day: £35 per person.
Full day: £45 per person.
Cost based on minimum of 4 people. We have a large fleet of canoes and kayaks so we can cater for very large groups if you need it – just be in touch!
For team building, survival and training please contact our office as prices vary depending on group size and time of year and the event program.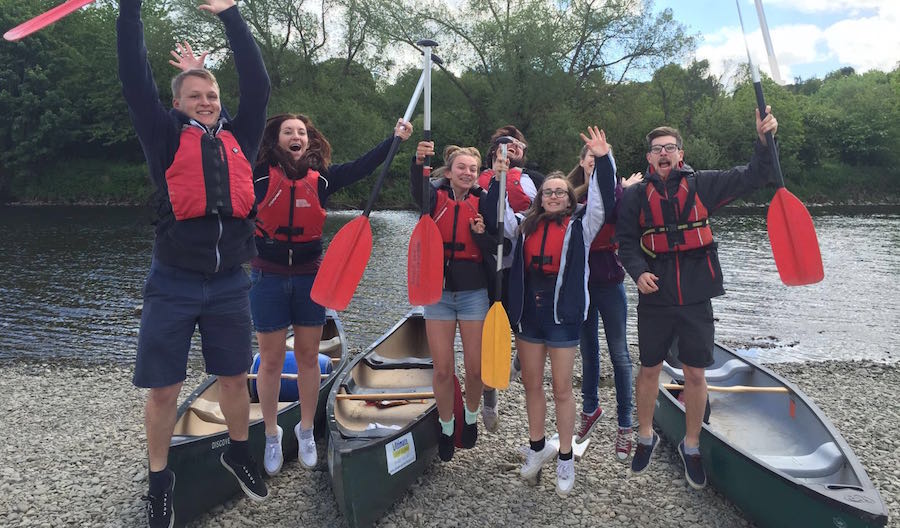 What's Included with Canoe / Kayak Hire:
Boat
Paddles
Buoyancy aids
Waterproof barrel
River Map
Recovery by minibus or taxi
Conditions of canoe and kayak hire:
All participants must wear a buoyancy aid at all times whilst on the river.
Anyone under the age of 18 must be accompanied by an adult.
Be considerate to all other river users ie; fellow canoeists, large powered tourist boats and fishermen.
Only land at designated landing areas.
Take all litter home with you.
Take care of all equipment, any loss or breakage will have to be paid for, unless by fair wear and tear.
Alcohol is not permitted, anyone who appears under the influence of drink or drugs will not be allowed to use our boats and the final decision is ours.
To book canoe or kayak hire, please use the enquiry form above or call 01432 264 807 and we will help you immediately. We look forward to having your group out on the river with us!
Looking for a group activity that is more than just canoeing or kayaking? Check out our sister company the Ultimate Activity Company who can arrange more activities and accommodation for your group.