Coalport to Bewdley- 21 miles, 2 – day trip with Severn Valley Steam Railway return
This is one of our recommended 2-day day trips on the river Seven going from Coalport to Bewdley. It is a 21 mile paddle downstream in a canoe or kayak, stopping at Hampton Loade overnight.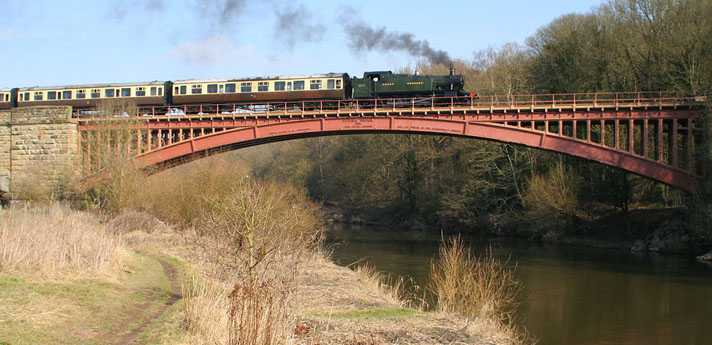 Coalport to Bewdley route description
Day 1:
We will meet in Hampton Loade where you can leave your car. This is where you will be staying overnight.
We will take your group to Coalport where you are given your equipment and a short safety briefing before leaving.
First you will paddle the 7.5 miles to Bridgnorth, where you can stop for lunch. After setting off from Bridgnorth you will start the 6 miles paddle to Hampton Loade where you can camp overnight.
Day 2:
The next stage of the trip to Arley is a gentle 4.5 miles. You can stop here for a quick refreshment from the Post Office should you need it. It is then only a further 4 miles to Bewdley including the rapids at Trimpley which are a lot of fun!
The return journey is on the Severn Valley Steam Railway, which delivers you back to the train station at Hampton Loade, only a short walk from your car.
Canoe Hire from Coalport to Bewdley
Distance: 21 miles
Time: 2  days  in a canoe and kayak
Pricing
We are unbeatable on price and transport is included with us, which many other companies add on as an extra! Check out our up to date pricing structure here.
Booking
All bookings need to fill out the form in the top right corner of this page for us to get right back to you with availability and pricing. If you just have a quick question however, call us direct on 01432 264 807.
More questions? Check out or FAQ's page.
What's included?
Boat hire, either canoe or kayak depending on your preference
Paddles
Buoyancy aids
Waterproof barrel
River Map
Transport to your start location in Coalport
Steam train ride back to your start point on the Severn Valley Railway
Safety brief and basic instruction before setting off