Family Canoeing / Kayaking Weekend
Family canoeing or kayaking is fantastic for bringing everyone together. We can provide canoeing, kayaking or survival courses with experienced river guides and bushcraft instructors. We will make your family canoeing holiday a trip to remember.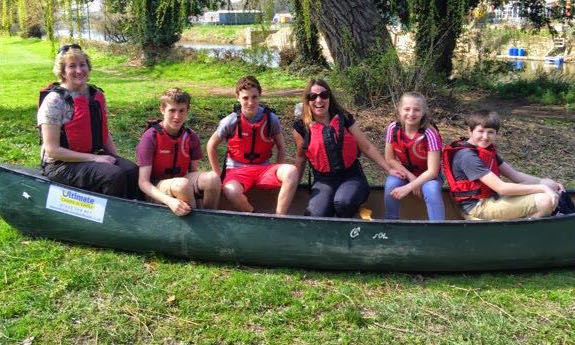 If you fancy getting away or having a family canoeing break with a difference complete our enquiry form above to book your event. You can also phone us on 01432 264 807.
We can offer family canoeing and kayaking breaks on most of the UK rivers including the River Wye, River Thames and River Severn. So get in touch and find out what we can offer for your family holiday.
For other family activities check out The Ultimate Activity Company.
Suggested Itinerary: (Example)
Example based on a River Wye canoeing break
Arrive into Hereford on Friday Night for dinner and drinks
Day 1 / Breakfast, Briefing, Transport to start point
Introduction to Canadian Canoes
Pack Canoes, Kit up and Depart
Stop along the way for picnic
Arrive at riverside campsite / Pitch tents / BBQ
Day 2 / Breakfast, Break camp, Kit up and Depart
Arrive back into Hereford City centre
Sunday lunch / Depart
Longer breaks and various locations available.
What is included?
Full event management and instruction
Boat hire
All necessary equipment
Transport
What locations are available?
Locations along the River Wye including:
Hereford
Hay on Wye
Ross on Wye
Monmouth
Chepstow
Locations along the River Thames including:
Oxford
Aylesbury
London (kayaking only)
Locations along the River Thames including:
Shrewsbury
Welshpool
Worcester
Gloucester
What should we wear?
Suitable outdoor clothing depending on weather conditions.
Trainers or walking shoes that lace up.
All technical equipment is provided.
How long should we allow for this experience?
Choose to travel along the river for 1 to 7 days. Most families choose to take a 2-3 day trip.
When does the activity take place?
All year round depending on weather conditions and river levels.
Are there any restrictions?
There are no restrictions but anyone with medical conditions must declare these before booking as no refund will be given. If you're unsure about your medical condition or abilities, always consult your doctor before booking this activity.
There is no minimum age for canoeing and kayaking. If you have small children, call 01432 264 807 to speak to one of our experienced paddlers. Canadian Canoes work well if your children are very young. These large open canoes can easily accommodate two adults, two children and a bag of necessities for the day.
Minimum Numbers
Minimum groups of 2 people.
Prices
Half day canoe hire: £20 per person.
Full day canoe hire: £25 per person.
Overnight canoe hire: £30 per person.
Half day sessions with instructor: £35 per person.
Full day sessions with instructor: £45 per person.
Call 01432 264 807 for a quote.